Welcome to your online Phuket Island Guide
Phuket is Thailand's largest island and nestles against the Indian Ocean Coast some 870 kilometers south of Bangkok. Phuket derives its wealth from tin and rubber, is blessed with teeming marine life, and has enjoyed a rich and colorful history.

Phuket is also one of the major Asian gateways for ocean cruises. Recently a new concept has emerged: Spa Cruises. Combining Thai traditional ways of relaxing the body and mind with all amenities of an up-market cruise
Phuket is blessed with magnificent coves and bays, powdery, palm- fringed white beaches, sparkling island-dotted seas, sincerely hospitable people, comfortable accommodation, superb seafood, lushly forested mountains, lovely waterfalls and parks, and delightful turn-of -the-century Indo / Portuguese and Chinese-influenced

architecture which create an enchanting ambiance perfectly suited to total relaxation.
Indeed, Phuket is a major resort of international stature, possessing everything necessary for a truly memorable holiday. First-class hotels located within town offer complimentary transport to their own beach clubs. Economy-class hotels are also available within town. First-class resort hotels with spectacular views offer air-conditioned accommodation, as do many cabin and bungalow complexes on Phuket's most popular beaches. Yet other 'native-style' complexes, built of bamboo, rattan and Nipa palm thatch, Phuket's coastal hills and

beaches to offer comfortable and relatively inexpensive accommodation.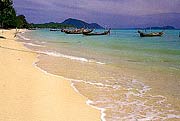 Phuket's glory is its magnificent coastline. Beaches range from gentle crescents of white sand with calm waters to rocky headlands pounded by raging surf. Secluded coves lie hidden among densely forested headlands tumbling around white beaches. In several such places, visitors can feel years away from civilization. Phuket's Indian Ocean coastline boasts the finest beaches while the eastern coastline overlooks some 30 lesser islands occupying largely tranquil seas. Islands vary greatly size, some are large enough to sustain fishing communities, coconut plantations, deer and wild boar. Others are little larger than massive rocks. Others again resemble fortresses, are riddled with caves containing the birds' nests prized by gourmets.
Phuket's

nightlife is sedate (compared with Hat Yai, Pattaya or Bangkok) and is concentrated largely in the town center and Patong Beach in restaurants, bars (many featuring video entertainment), massage parlors, nightclubs and discotheques.
BOATS FOR SALE

"JIM JAM"
Luxury Motor Yacht

Design:
Hatteras
Length:
55 ft. (21.0m)
Draft:
8 ft. (2.4m)
Beam:
15 ft. (4.8m)
Built:
Nov 2001
Engine:
Commins Diesel
2 X 280 Hp, Turbo Charges
Top Speed:
13 Knots
Cruising Speed:
11 Knots
Fuel:
5000 lt.
Water:
4000 lt.

USD 215,000

"PERFECTA"
Sea Ray Luxury Cruise

Design:
Sea Ray
Length:
39 ft. (14.0m)
Draft:
3 ft. (1.0m)
Beam:
13 ft. (4.5m)
Built:
1999
Engine:
Caterpillar Diesel
2 X 375 Hp, Turbo Charges
Top Speed:
28 Knots
Cruising Speed:
24 Knots
Fuel:
2500 lt.
Water:
500 lt.

USD 175,000

All tax paid in full and both boats have Thai commercial flag
Contact:01-9390176 or bill@phuketisland.com