Phuket Night Life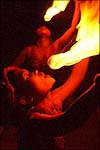 Patong Beach is the center of all tourist oriented nightlife on Phuket, Thailand. There, located within a radius of half a kilometer around Soi Bangla, are over 150 bars, pubs, discos and ago go bars. The pubs, bars and ago go bars of Patong Beach are the most popular nighttime destinations on the island. They give the town its unique flavor of a lively, fun place until long after the sun goes down.
Patong Beach features some great discos too. Two of them, the Banana Disco and the Shark Club, are also located at Soi Bangla. Another one, the Safari Pub, is on the hill towards Kata Beach.
Another option are the Thai-style "coffee shops" - nightclubs where ladies in fancy dresses take turns getting up to sing Thai songs while customers eat and drink and, occasionally, entice singers to join them at their tables. Later at night there are sometimes farcical skits on stage and other types of entertainment.

Bars and Pubs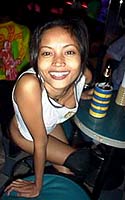 Lined up next to each other in long rows around Soi Bangla, the bars and pubs of Patong Beach are probably the most popular nighttime destination for most visitors. Most of the bars are small and simple with stools or benches and some kind of roof. The music can be loud and often very mixed as each bar has its own stereo system. The volume of music can make conversation difficult but a fun time is to be had by all.
The atmosphere is easy and relaxed as it is very easy to take a seat in one of the many bars or pubs and enjoy people-watching as there is always a sea of human beings moving around you. In season Phuket is awash with people from many different countries and Patong Beach in particular becomes a very cosmopolitan place.
A visit to the bars and pubs of Patong is for many the ritual by which they begin the nightly party.


Simon Cabaret and Transvestite Shows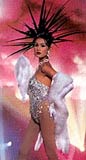 Going to the cabaret on Phuket has a different meaning than almost anywhere else in the world. The island boasts extravagant cabaret shows with stunning costumes, bright lights, expensive sets and a unique feature, most of the performers are men dressed as women.
Transvestites and transgendered people are much more accepted in Thailand than in Western countries, perhaps because the Buddhist religion practiced in the region does not have texts or doctrines that are judgmental of different lifestyles. Whatever the reason, they can be often be seen on the streets and in everyday jobs where they are employed without persecution.
At the Simon Cabaret, famous well beyond Phuket, an all-male revue with the the utmost extravaganza can be experienced. Performers recreate a traditional Thai dance or lip-synch songs popular in countries around the world.
Besides the Simon Cabaret, the popularity of transvestite and transsexual cabaret performers has spread to most parts of Phuket. Many of Phuket's five star resorts featuring transvestite cabaret performers for special occasions and numerous other venues can be visited. Most well-known are the Andaman Queen Cabaret and shows at the Royal Paradise Complex.


A Go Go Bars

In Patong Beach, the heart of Phuket Night Life and Entertainment, there are many A Go Go Bars, most of them located around Soi Bangla, where you can watch Thai girls dancing to energetic music clothed in nothing more than a string bikini. These girls are not totally nude, as this is officially prohibited by Thai law.
The girls may interact with the customers during the time they are not dancing. They are not owned in any way by the bar and if they want to share their time with the guest, it is their decision to make. If you enjoy the company of a particular lady and would like her to accompany you perhaps to dinner or a disco, it is customary to pay the bar a small fee, since if she accompanies you, she is no longer assisting the bar by providing entertainment.
Anyway, if you have an open mind, visiting an ago go bar will surely give you a unique insight into this aspect of tourist entertainment.


Banana Disco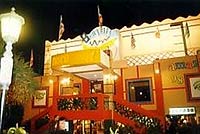 The Banana Disco is located on beach road (Thaweewong Road) around 50 meters from the western end of the Soi Bangla. It is the oldest disco in Patong, but has a modern sound system and current music, with styles ranging from techno to fast dance beats.
The club closes at 3:00 a.m. which is pretty early for Patong. Drinks cost THB 100, no matter what you are drinking. The entrance fee of THB 100 includes the first drink.


The Shark Club Disco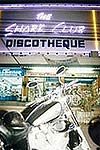 The Shark Club is one of the most welcome additions to the night scene in Patong. It is located on the corner of Soi Bangla and Rat-U-Thit Road directly across from the Rock Hard Go Go and within sight of the PS Hotel.
With a high-tech laser light system and a good sound system, it has the most sophisticated disco technology in and around Patong. The dance floor is large and spacious and because of this, the club is visited by many tour groups as it can easily accommodate large numbers of visitors.
The Mix of European and American music, blasts from the high-tech sound system from early evening until just before dawn.


The Safari Pub and Disco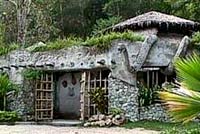 A trip to the Safari Pub and Disco is definitely worth a visit. Set between several elephant camps and close to Le Meridien Phuket on the main road between Patong Beach and Karon, the Safari Pub is one of the most unique buildings around. It is constructed of local materials such as wood and palm leafs, giving the club an appearance fitting it's name.
The parking lot is usually jammed with cars, trucks and motorbikes each night with a young party crowd who want to dance.
Inside, the location twists and turns around bars, staircases and eventually opens onto an outdoor Treetops restaurant which overlooks a water basin.
The dance floor is quite large and a band usually plays live Rock&Roll and Reggae. From time to time a guest is given the chance to perform his favorite song for the crowd. Late at night, dance music is played by a DJ and the Safari Pub closes its doors in the early morning hours. There are special shows at midnight of every Tuesday and Thursday.
Food can be purchased at the Safari restaurant and there is also another little restaurant serving Thai dishes located next door.


Thai Massage
After having had a fascinating dive in the Andaman Sea or after a night dancing in one of Patong's discos, a relaxing massage done by the soft hands of Thai girls will help to refresh and revive you. Thai traditional massage is one of the most famous recreational activities in Thailand (this should not be confused with Full Body Massage, offered in specialized massage parlors like Christins in Patong Beach).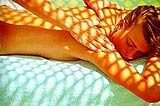 Practiced for centuries and passed down verbally from one generation to the next, from teacher to student or from parent to child, traditional Thai massage has a long history.
The roots of this way of therapeutically healing and recreation go back to India. Jivaka Komabhacca, a doctor friend and contemporary of Buddha, is believed to be the founder of this practice over 2.500 years ago. The heavy Indian influence on the southeast Asian cultures including Thailand and the Malay peninsula, helped spread the knowledge about massage rapidly throughout the region. Ancient Chinese medical techniques, brought in by a large number of immigrants, had further influence on Thai massage.
At the time that Thai culture came to full flower under the kings of Ayutthaya, a large collection of medical texts about Thai massage and its techniques existed. But with the Burmese invasion of 1776, leading to the destruction of the capital, most of these scriptures were lost forever. What was left was carved in the Wat Poh in Bangkok in 1832 by order of King Rama III, who wanted to preserve this great tradition.
According to these inscriptions, the theoretical basis of Thai massage are energy lines, of which the major ten are called "Sen". Important acupressure points are located on these lines which run through the body and working on them will help to remove blockages of energy flow.
Therapeutic massage for treatment of specific conditions and diseases is also practiced in Thailand, but only by a small number of skilled practitioners. For a good experience of popular Thai massage, a massage girl from one of the many massage parlors all over Phuket or even one of the beach girls offering a massage for a few Baht will suffice.